There is a frenetic energy. There is also a stillness. There is a shape propelling into infinity. There is a cluster of dots, bound so tightly together it makes a heart ache. Here, in this painting, the creative freedom of dreams is restricted only by canvas size. Darryl "Barking Dog" Brown paints to create works that "connect us to the spirit world, through which we may learn to live a more sustainable life on planet Earth."
The idea of working toward a more sustainable life is one of the cosmic tendrils in which Brown and a local kombucha tea company are tethered together.
"The first time I ever had kombucha, it tasted like buttermilk to me. The second time I had it, I was at a party," said Brown, "…where Rachel [Kanann, CEO of Unity Vibration in Ypsilanti] was serving something she had made. Rachel is quite the alchemist. She makes all her own recipes. Now I'm buying kombucha at the store every time I go! I never had a taste for it before."
The party Brown is talking about is Entheofest, an annual "free speech event celebrating sacred plant medicine" in Ann Arbor, in which he was a keynote speaker last year. After meeting Brown at Entheofest, Kanaan and part-owner of Unity Vibration, Cynthia Greene, knew that their gathering was kismet. ("He magically ended up in my backyard, that afternoon!" Green remembers. I'd never met him before that, and next thing, we were talking about sacred Native American prophecies and swapping information to start collaborating.") That introduction sparked an artistic partnership between the brewery and the artist.
Darryl Brown, his colonial name, is of American Indian descent. His spiritual name is Medidegwe Anamosh, literally translated as The Sound That a Dog Makes. He says his friends call him Barking Dog, but otherwise his spiritual name is reserved for ceremony and spiritual gatherings only.
Unity Vibration is a hidden delight in an unassuming location off Ecorse Road in Ypsilanti. The welcoming aroma of kombucha being brewed in the back of the warehouse bubbles up and greets guests upon entering. String lights and paintings from local artists line the metal walls. Up front is for drinks, eats, and meets. Further back, musicians play live music. Artists paint as one voice. Community is sown and grown. Unity Vibration captures the classic Ypsi juxtaposition of whacky-meets-cozy-hominess perfectly, while creating something entirely its own: a community cultivation spot where art and artists combine with a tea and brew house. Where else can you grab a glass of 'booch' while an indigenous shaman artist teaches painting?
Beyond that, what sets Unity Vibration apart lies in the technique.
"Unity has its own special unique process and intention within the brewing," said Kannan. "We use Hado positive messaging. We also use sacred sound vibrations and solfeggio frequencies [as we brew our products]."
In November 2021, Unity Vibration hosted a month-long art show featuring Brown's work. During that exhibition opening, Brown offered to host a community painting event, where a small gathering of people collaborated with Brown using acrylics and paint brushes on an oversized canvas.
"The public was invited to paint on a large canvas using a variety of colors, to help fill the canvas with their own individual expressions," said Brown. "The black and white paint along with the metallic colors are applied by me, so I can combine the community art creation into a single work of art. I have been doing this at various events for the last several years with great success. It's fun for everyone who participates."
This May, Unity Vibration has planned an unveiling event of the finished community painting.
"The unveiling is bringing the painting back, sort of like a before and after, to give to the Unity Vibration brewery to have for display," said Brown.
The coalition of Unity Vibration with Brown furthers the brewery's mission to offer "continuous support and recognition to the arts in our area," said Greene.
"We are providing free open venues to artists that inspire and help the evolution of consciousness and the planet," said Kanaan. "We are open to all that serve to bring people together. We love Darryl and his tribal wisdom and galactic mind and art."
Greene and Kanaan hope teaming with Brown will create the kind of groundwork for future events and opportunities for other local artists, whether that's an artist interested in painting, dancing, music, or other mediums.
"We will offer free community events such as a community painting before the day of the workshop," said Kannan, "…usually the admissions are for a full day, [including] materials. You leave with your own art and spiritual masterpiece." Kannan said the workshop runs about $300.
Community art, at its core, says Greene, is about unity in the community. Greene, like Brown, believes that art can heal, and that it can also bring about the self-awareness needed to connect to a deeper awareness of the world around.
"Beyond that, turning 60 years old last fall has sharpened my desire to plant seeds of wisdom and sustainability, to mature, after I am gone in body, as did those before me. I saw an opportunity [with Brown] to continue the Southeast Michigan/Ann Arbor/Ypsi connection with our Indigenous Anishinaabe elders by promoting meditation painting and metaphysical teaching workshops by Brown." said Greene. No dates have been set as of yet, but Greene is looking forward to the future workshops and events the brewery hopes to host on the horizon.
"We enjoyed the offerings of kombucha tea and kombucha beer at the brewery that fabulous evening [at the last community painting]," she said, noting that she hopes to repeat that process during the May unveiling. "The community paintings are also a vehicle to connect interested parties for future metaphysical painting workshops and lectures of Native American teachings. We [at Unity Vibration] want to teach people how to live sustainably and in harmony with our grandmother Earth." Greene said.
Put simply: Mother Earth is crying. Brown is howling back. Unity Vibration is the amplifier for that howl.
"The Earth is in great change and we are living in times of the Indigenous prophecy," said Brown. "We are at the cross-roads for the future. Do we choose the "death culture" of continuous war along with destruction of the Earth's environment? Or do we choose the path of the "life culture," of peace. Do we learn to live in balance and harmony with nature?" These are the questions Brown hopes to address in his works.
Brown is as layered as his paintings; indigenous artist, chief, shaman, and sun dancer, are just some of his many forms. A creative soul from the "moment he could hold a paint brush," Brown began painting as a small boy, growing up in Saint Ignace, Michigan. He is mostly self-taught, having painted on bark, boxes, sticks, and anything else he could get his hands on. He worked briefly with a mentor, but by age 19, Brown was already getting approached by the DIA to display some of his works.
"I was young, and it came as a kind of validation," said Brown. "I was working on a wax sculpture at the time. [Being approached by the DIA] was like being discovered." Brown said. "I was also painting mural style on walls and whatever space was available to me. A board member of the DIA saw my work and connected me with the DIA [higher-ups]. They accepted my sculpture to be put on display along with photographs of my murals. However, just a few weeks before my exhibit was to be displayed, I declined their offer and sort of disappeared into obscurity." Until now.
Brown estimates he's made between 200-300 paintings in his life. He paints with brushes, but notes that he is always learning and adapting new techniques. For instance, Brown was stunned to learn, some decades into his career, that he could make tiny, perfect dots with the head of a toothpick.
"Work is done. And it's never done. There is always room for one more dot," Brown laughs, "… but you can also over-work a painting." It's finding the balance that's important.
Brown calls his distinctive painting style atavistic surrealism: "Atavistic is a term relating to something ancient or ancestral and a modification of a biological form where genetic traits reappear after having been dormant or lost through evolutionary change. It's also called animistic in the cultural adaptation. Surrealism is a way to animate the atavistic structure. Surrealism balances the rational creativity of life with that vision or power coming from the unconscious. Many surrealist artists have used automatic drawing to unlock ideas and images, as I do," said Brown.
Automatic drawing is the process of pure creation. Also called surrealist automatism, the artist "suppresses conscious control over the making process, allowing the unconscious mind to have great sway" during the artistic process, as explained by Webster's Dictionary.
When Brown begins to create, layers of base paint are guided by an all-trusting hand, which does not waver or think about destination, it only paints.
Living. It's the word Brown uses to solely summarize his work. It's also the feeling one might get after absorbing Brown's creations; it's as if the painting is breathing, the lines pulsing on the canvas. Brown assures it is only acrylic.
"Paint, especially acrylic paint, is easy to work with, it dries faster than oil, and with more precision than watercolor," he said. He also notes that it's a material many have also worked with before, in grade-school and beyond, so for that reason, acrylic makes for a good material to introduce during community works, since many are already familiar.
"Creative people and other artists are often drawn to my work, as well as those who have a spiritual inclination," said Brown. "The younger generations are also very attracted to my painting style. Even before [collaborating with Unity Vibration], Ann Arbor has always been a favorite Michigan city for me. The people are progressive, open-minded, intellectually curious, and politically engaged," said Brown.
Kanaan, an artist in her own right, spoke briefly about studying anthroposophical (a study that "postulates the existence of an objective, intellectually comprehensible spiritual world, accessible to human experience", according to Webster's Dictionary) studies, and how it mirrored Brown's painting technique: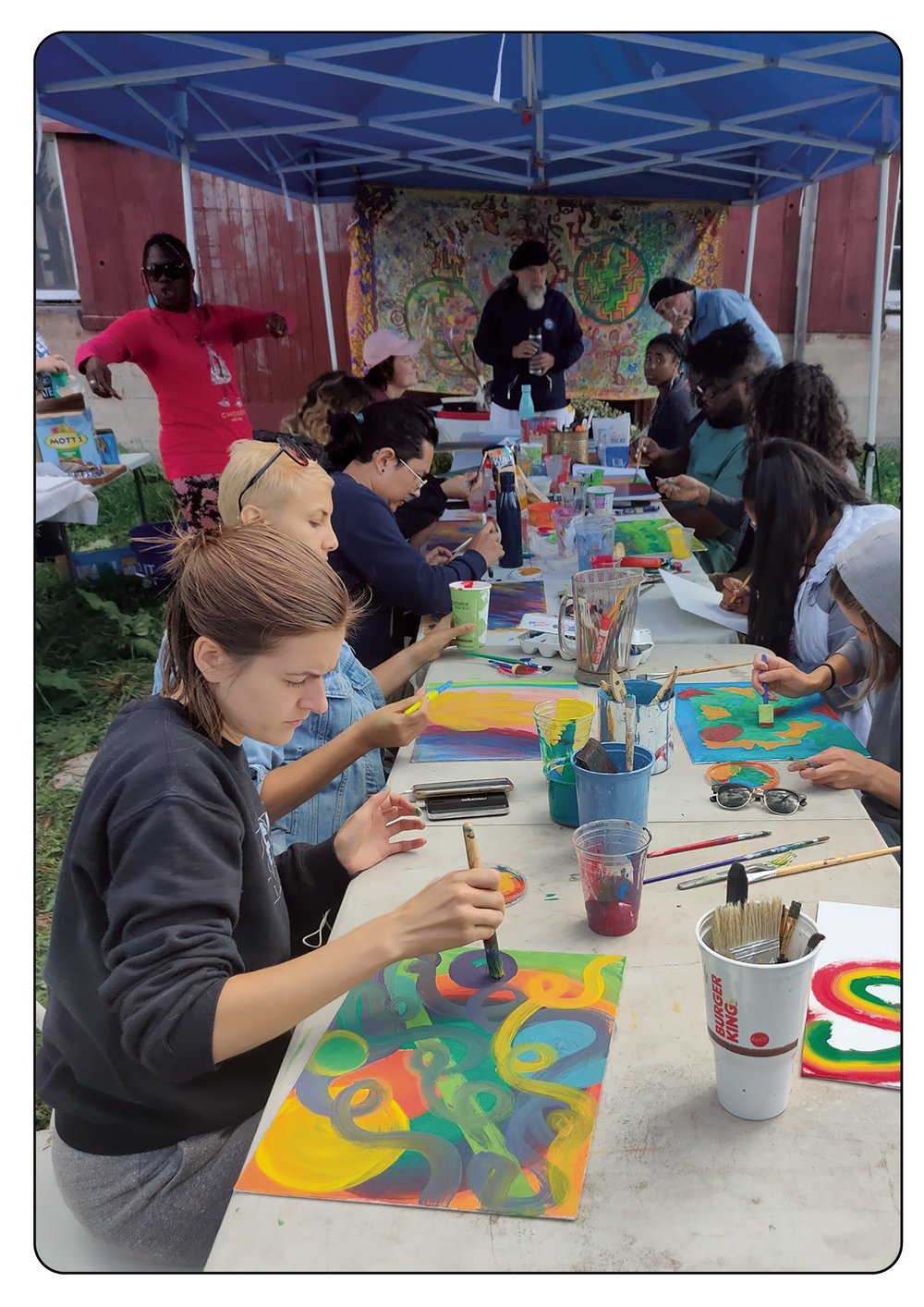 "I did something called veil painting, which isn't the same, but it's somewhat similar in the fact that the painting finds a spiritual life of its own, and there's so much in it to look at, and reflect on when you're finished. So that was amazing for me to see that same spirituality [in Brown's paintings] and to see he accomplishes a work like that in a completely different way than how I was taught. And not only does he bring that [spiritualism] out in himself through the work, but he brings it out so that people can learn to see it and trust themselves," said Kanaan.
"In painting, there's a lot of really beautiful things that come about that you don't really have control over. At the start of a work, you're not always painting with a specific focus or subject in mind, that's true, especially with veil painting or painting spiritually, as Darryl does, but you are painting with a feeling, or an intent. It's not so much like you're trying to paint an object… or maybe you're thinking about something specific. But when the painting dries, you will see the most amazing things come through the canvas, because there's an intent. You don't even have to consciously tap into it. It's just there. That's the kind of work Brown produces and inspires in others." Kanaan notes that painting for her is "another medium of communion with myself, [as well as] universal energy."
Brown encourages automatic creation as a release of self-actualization, as a surrender to a greater unknown. "It will happen," said Brown, "You'll see something…. you'll see a face, you'll see what looks like a rabbit or a snake or tree, this stuff is happening…. you're not painting it on the canvas. It's appearing. As a person develops the ability to relax and trust, the more that painting is going to come out. And you're going to be amazed because when you get all done, you'll realize it's like the painting sort of painted itself."
To see more of Darryl "Barking Dog" Brown's work, visit his Facebook @darrylbrownartist or his website darrylbrownart.org. Unity Vibration is located at 93 Ecorse Road in Ypsilanti. Visit their website for hours and information at unityvibrationkombucha.com.